We provide Public Relations, PR, Marketing, Digital, Promotions, Reputation Management, Social Media, Website Development, TV Advertising" /> We provide Public Relations, PR, Marketing, Digital, Promotions, Reputation Management, Social Media, Website Development, TV Advertising" />

We work to shed light on the gold that exists in you and your organization
Angel Investor and Funding Event
For more information on our events, visit our
Gold Business Connect Page:

Check out our branding program,Staying True to Brand You!
​ Our Mission:

The mission of Light of Gold PR, Marketing, and Consulting is to shed light on the gold that exists in organizations, businesses, and individuals.

We expose the hidden treasures that exist in your organization and bring these treasures to light through publicity, marketing, branding, digital and social media, TV advertising, promotions , SEO, website development, media relations, and today's technologies.

We disseminate information on TV, Radio, in Magazines and Newspapers, through Business Organizations, and on the Internet.

Positioning you for success is our No. 1 goal.
The Brooklyn Chamber's Before Hours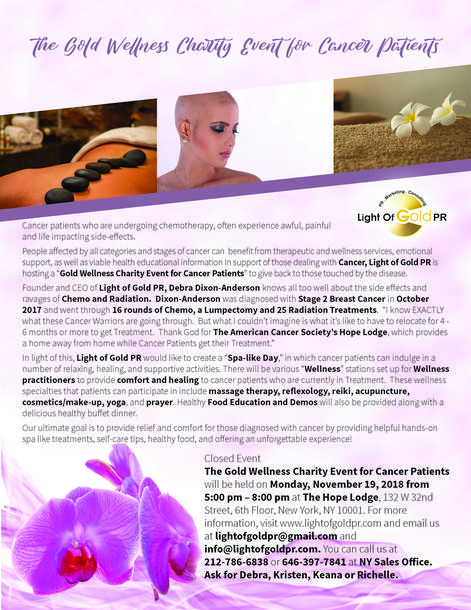 Gold Business Connect: Women's Event Recap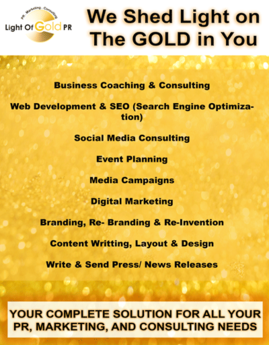 When: Monday, November 19th, 2018

Where: The Hope Lodge
132 West 32nd Street, New York, NY, 10001

Why: Patients who are undergoing chemotherapy and radiation often experience such painful and life impacting side effects that the benefits of therapeutic wellness services cannot be overlooked. Considering this fact, Light of Gold PR is hosting a "Spa-like Day" for cancer patients to indulge in a few relaxing, healing, and supportive activities. Join us on Monday November 19th from 5:00pm-8:00pm at the "Gold Wellness Charity Event for Cancer Patients" at the American Cancer Society's Hope Lodge located at 132 West 32nd Street, 6th Floor, New York, NY.

The 3-hour program will feature a variety of stations that will allow wellness practitioners to provide comforting and healing services to cancer patients that are currently in treatment. Specialties will include massage therapy, reflexology, reiki, acupuncture, yoga, prayer, cosmetics/makeup counsel, education on healthy food, and more!

"Our ultimate goal is to provide relief and comfort for those diagnosed with cancer by providing helpful hands-on spa like treatments, self-care tips, healthy food, and offering an unforgettable experience," said Dixon-Anderson.

​​Price: N/A

Brand Monitoring on Twitter